The Two Brothers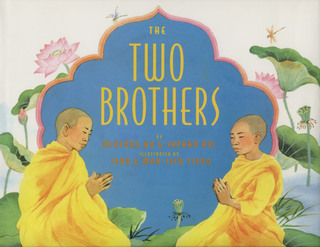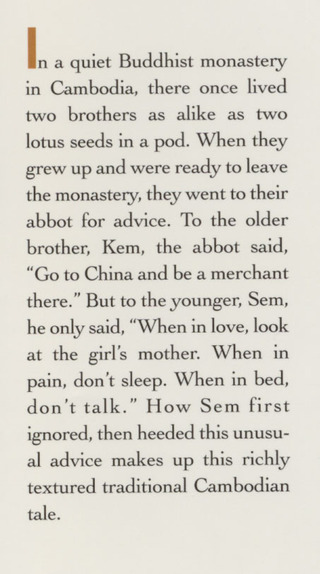 From School Library Journal
Kindergarten-Grade 4?In ancient Cambodia, two orphaned brothers raised in a monastery consult their wise abbot before venturing out into the world. His astrological charts tell him that Kem is destined for wealth and Sem for kingship, so he gives each specific advice designed to make the prophecy come to pass. Kem follows the abbot's advice and attains success immediately. Sem's mistakes and backsliding make the story. Readers watch him marry foolishly, slide into poverty, travel the seas in a Chinese junk, wrestle with a sea monster, and eventually return to seek justice at an opulent Cambodian court when his newfound treasure is stolen. Sem exercises free will, learns from his mistakes and becomes a king, just as the abbot had foretold. The authors give no direct source for their story, but a note by Minfong Ho places it in the context of Cambodian folk tradition and recent history. The Tsengs' rich, expressive watercolors bring the characters to life. A book to value for its authentic setting, engaging story, and portrayal of one culture's take on the balance between choice and destiny.?Margaret A. Chang, North Adams State College, MA
Copyright 1995 Reed Business Information, Inc.

From Booklist
Ages 5-8. Raised in a monastery, orphaned brothers Kem and Sem ask the abbot's permisson to leave and see the world outside. The abbot offers them some sage advice, and Kem, who takes the abbot's words to heart, becomes a merchant and prospers. Sem, who neglects the words of wisdom, falls upon hard times until he remembers the abbot's advice and finds the path to his destiny. From the unhappy lot of a poor peasant whose wife deceives him, he rises to become a wealthy, happily married man and, eventually, the king of Cambodia. Lively, colorful paintings highlight the drama, humor, and beauty of the tale. While the introductory author's note describes the traditional transmission of Cambodian folklore through storytelling and narrated dance, this entertaining picture book provides its own lively interpretation of one dramatic folktale from Cambodia. Carolyn Phelan

Ingram
Preparing to enter the world after a life of instruction at a Cambodia monastery, Kem is given practical, specific advice, while Sem is offered more profound wisdom that he comes to understand in a special way.

Card catalog description
Brought up in a Buddhist monastery, two brothers go out into the world to very different fates, armed with the advice of a wise abbot.