Soul Searching: Thirteen Stories of Faith and Belief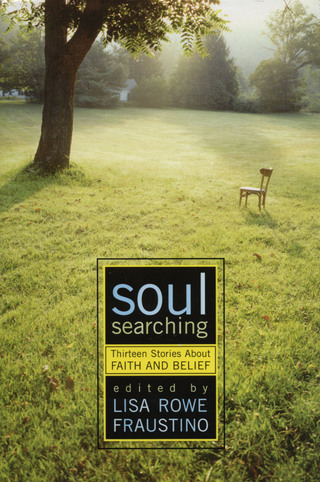 From Publishers Weekly
Although its 13 original stories introduce dramatic episodes-e.g., a Jewish-American girl's belated discovery of her father's escape from Nazi Germany; a Palestinian-Israeli showdown-and cover a wide spectrum of religious beliefs, this anthology is generally tame. The most successful contributions stake claims in well-known territory. Minfong Ho's "The See-Far Glasses," for example, explores a family of Chinese immigrants as the teen protagonist absorbs her grandmother's practice of tending the family altar; in her author's note, Ho moves beyond the particulars of the story to identify the Confucian tenets informing the customs described and mentions the roles of Buddha and Lao-Tse in shaping Chinese religious thought. Unfortunately, many entries attempt to shoehorn novel-length plots into short-story formats. Linda Oatman High's "The Shunning of Sadie B. Zook," about a pregnant Amish teen sent to a home for unwed mothers, introduces compelling themes but doesn't develop the characters beyond their immediate situation; the author's note, identifying High's husband's grandmother as the model for Sadie, is more intriguing than the fiction. Other writers here include Jennifer Armstrong, Shonto Begay, William Sleator and editor Fraustino (Dirty Laundry: Stories About Family Secrets). Readers in search of a more vibrant and accomplished collection should try Marilyn Singer's I Believe in Water: Twelve Brushes with Religion. Ages 12-up.
Copyright 2002 Reed Business Information, Inc.

From School Library Journal
Grade 6-10-This varied collection seeks to foster thought and discussion on the sometimes-conflicting themes of faith and belief. The book starts on a decidedly strong note: Linda Oatman High's "The Shunning of Sadie B. Zook" is a poignant story in which an Amish girl must cope with an out-of-wedlock pregnancy. Many stories show how teens deal with their faith. In "A Daughter of Abraham," Dianne Hess introduces readers to a Jewish girl who feels no strong ties to her heritage until she meets a cousin who hid in Italy during Word War II and learns that her great-grandmother died in Auschwitz. William Sleator's "The Funeral," set in Thailand, tells how an apprentice monk finds his place in the world through singing at funerals. Fraustino's "The Tin Man" shows how faith helps a young woman waiting for an organ transplant. On the other hand, Dian Curtis Regan's "The Evil Eye" is just plain weird. A young man is kidnapped by a voodoo cult in Venezuela and must escape with the assistance of the young woman who lured him into the group. The characters are stereotypical, and the protagonist is not fully realized. Overall, though, teens will find new ideas to consider, new worlds to explore, and perhaps see themselves in some of the protagonists. This book would be an especially appropriate selection for church-related discussion groups or ethics and morality classes.
Elizabeth M. Reardon, McCallie School, Chattanooga, TN
Copyright 2002 Reed Business Information, Inc.

From Booklist
Gr. 6-10. Fraustino, who edited Dirty Laundry [BKL My 15 02], turns to spirituality in this anthology of stories. In her introduction, written a few days after September 11, she writes, "These stories will unplug your emotions." This is true of some of them, but most are more likely to provoke thought rather than passionate feelings. Linda Oatman High writes of an Amish girl shunned by her community because she is expecting an illegitimate child. William Sleator takes readers to Thailand, where a boy becomes an apprentice monk. One of the most interesting offerings comes from previously unpublished writer John Slayton, who tucks religion tightly into his story, "Elvis Lives," about two teens on their way to Graceland. More intensity would have helped many of the stories, and a couple of the selections seem to end prematurely. Despite that, kids with a spiritual bent will find things here to ponder. Ilene Cooper
Copyright © American Library Association. All rights reserved

About the Author
Lisa Rowe Fraustino is the award-winning editor of the acclaimed anthology Dirty Laundry: Stories About Family Secrets and the author of two novels, Grass and Sky and z as well as the ALA Notable Book, The Hickory Chair, illustrated by Benny Andrews. Lisa resides in New England where she teaches at Eastern Connecticut State University.

Book Description


"We must fight the tendency to reduce the world's cultures to sound bites and remember that all religions in all countries are composed of real people."


So writes Lisa Rowe Fraustino in her introduction to Soul Searching, an inspired collection of short stories and the answer to the prayers of anyone looking for a book that ponders faith.

Thirteen stirring narratives by acclaimed authors illuminate the world's major religions -- Judaism, Christianity, Islam, Hinduism, Buddhism, Confucianism, and Taoism -- as well as a few lesser-known belief systems. From Linda Oatman High's story of Sadie, who is shunned by her small Amish community, to Elsa Marston's Mujahhid, who grapples to understand the idea of jihad within the Israeli/Palestinian conflict, each of these thirteen adolescent protagonists is faced with a life-altering crisis that triggers an evaluation of the way he or she believes.